Company Profile
Future Motion Inc.

Company Type: Sporting Goods
Company Mission:
A revolutionary new electric boardsport that allows you to carve the planet earth in ways never thought possible.

---
Established in 2014, Future Motion Inc. is a California-based company with a team of over 100 employees who work hard to create incredible riding experiences. Future Motion manufactures every Onewheel in their state of the art factory in California. Founder/CEO Kyle Doerksen built the original Onewheel prototype in his garage to emulate the feeling of snowboarding on powder. After eight years of tinkering Kyle left his job to focus solely on his invention. Since launch, Future Motion Inc. has seen its customer numbers zoom into the hundreds of thousands, collectively traveling more than 100 million miles on the boards.
Featured Future Motion Onewheel Products
There are three different versions of the Onewheel available for purchase. Details on each version are below:
Pint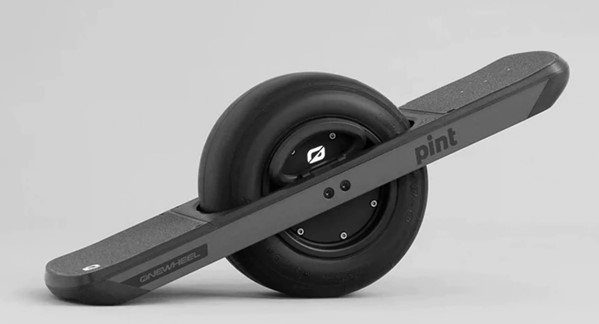 Pint is the smallest and lightest Onewheel model with a range up to 8 miles and a top speed of 16MPH. It features a smaller and rounder tire than the Onewheel GT with a narrower foot stance to make it carvey and maneuverable. Riders lean their body in the direction they want to travel. The pint is rideable on any terrain, from grass, dirt, and gravel to sandy beaches. Every Pint features a convenient mag handle. This handle allows riders to pick up their board and bring it with them into the office or aboard the train. Charging takes 120 minutes with a standard home charger. There's also an optional quick charger, which can fully charge the Pint in less than an hour. The Onewheel app provides detailed information about the Pint, like battery charge, technical information, and more.
Pint X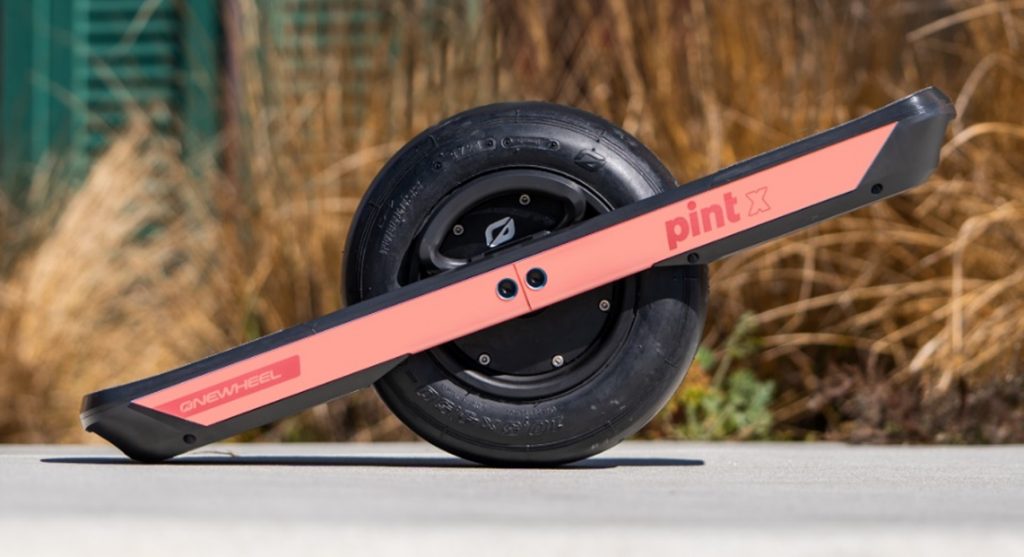 Onewheel Pint X offers a compelling blend of performance and portability. With the small Pint form factor, Pint X is perfect for getting around the city but packs plenty of power and range for any adventure. The Pint X is controlled by simply leaning your body in the direction you want to go. The Pint X tire makes for a ride that's stable and provides plenty of cushion for a smooth ride. This smaller, lighter version comes with Simple stop technology, making it easier and safer to ride than the Pint. Pint X has a range on a single charge of 12-18 miles and can reach a top speed of 18 MPH. The Onewheel app provides detailed information about the Pint X like battery charge, technical information, etc.
GT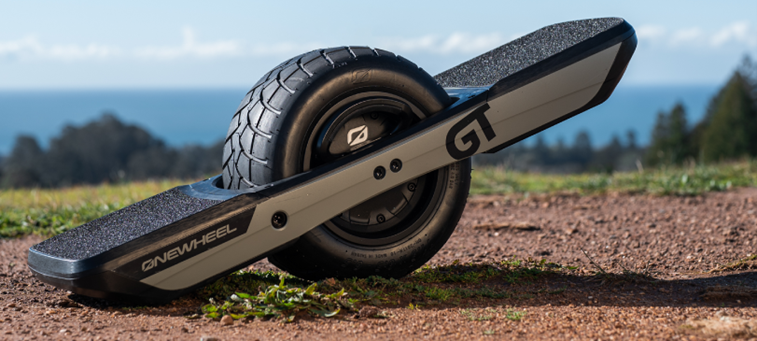 The most advanced Onewheel machine ever created. The GT has unparalleled power and range, which unlocks previously unimaginable terrain, long commutes and endless adventures. The GT also features state-of-the-art 21700 batteries, which allow riders to travel up to 32 miles before a charge. With a top speed of 20 MPH, riders must take their time before pushing the GT to its limits.
Digital shaping and custom rubber allow riders to mimic the sensation that snowboarders experience while carving. The board can recharge entirely in 200 minutes, and concave footpads provide maximum traction. The GT is designed for the advanced Onewheel rider. Onewheel also has an app compatible with all models. The OW app provides detailed information about your board, including battery charge and technical information.
Benefits and Uses of Onewheel's Featured Products
The Onewheel was created for anyone over 14 looking to get outside, tap into the flow of board sports on a daily basis and enjoy a fun mode of transportation. The sophisticated technology behind the Onewheel makes it easy to balance and ride within minutes of trying the product. Unlike other motorized vehicles, Onewheel devices are entirely hands-free. The body of the rider determines all motion and direction.
The Onewheel is popular amongst avid snowboarders and surfers as it replicates the sensation of carving through snow or water. Many electric skateboards can be pretty noisy, but Onewheel's proprietary, whisper-quiet 750-watt Hypercore™ motor allows riders to enjoy the outdoors more.
The sizeable singular wheel can also easily handle rocky terrain and glide over uneven sidewalks. Reviews show that the best feature of the Onewheel is how fun it is to ride. Anyone looking to spend more time in nature can quickly motivate themselves by adding a Onewheel to their collection of vehicles and devices.
Onewheel Injuries, Recalls, and Common Concerns
The most common concern associated with Onewheel products is safety. It is important to understand that Onewheel is a board sport, and just as in any board sport in which you move through the world, there is risk. While every Onewheel product features some of the most advanced self-balancing technology ever created, riders can still endure accidents if they ride recklessly and ignore basic safety warnings. Onewheel injuries have resulted in broken bones, lacerations, and concussions. The common theme associated with these injuries is that riders increase their speed beyond their skill level and don't slow down when prompted by the safety feature called pushback. For more information on pushback, check out this Onewheel YouTube video. Onewheel riders should maintain a comfortable speed for their skill level to avoid injury. Rider education is key, especially at the start. Onewheel has released a full catalog of safety videos on their official YouTube channel.
In 2020, Onewheel announced a voluntary recall of the front footpads for the GT model. The only Future Motion Onewheel recall in company history resulted from reports that the GT was continuing to operate after the rider had dismounted. Out of an approximate 20,000 units sold, there were 813 reports of board operation after dismount. All owners of affected footpads were provided new footpads to remedy the issue. This has been the only recall in the history of Onewheel and Future Motion.
Onewheel Product Cost
• The Onewheel GT is available at $2,200 and can be paid in monthly installments of $92 through Klarna.
• The Onewheel Pint X is $1,400 and can be paid in monthly installments of $78 through Klarna.
• The Onewheel Pint is $1,050 and can be paid in monthly installments of $58 through Klarna.
Onewheel FAQ
Is Onewheel challenging to ride?
Onewheel products are easy to ride with minimal instruction and practice. The technology behind the Onewheel helps keep the rider balanced.
Can I try Onewheel before I buy?
More than 800 retailers sell the Onewheel product across the globe and offer Onewheel demos. Contacting a local retailer that sells the Onewheel is the best way to determine if they provide demos.
What comes in the box? (Onewheel GT)
You can purchase the Onewheel GT board or one of 3 bundles. Bundles can include Fenders, Bumpers, Rail Guards, a Hypercharger, and a Stand. All boxes will include a GT Home Charger, an Owner's Manual, and stickers. Additional products are also available for sale.
What comes in the box? (Onewheel Pint & Pint X)
You can purchase the Onewheel Pint board or one of 3 bundles. The bundles can include Fenders, Bumpers, Rail Guards, an Ultracharger, and a Maghandle Pro. The box will include a Pint Home Charger, an Owner's Manual, and stickers. Additional products are also available for sale.
Does the Onewheel come with a charger?
All Onewheel products come with a standard charger. More powerful chargers are also available for purchase, which cut charging time in half.
Do I need to charge my Onewheel out of the box?
Onewheel products are typically partially charged in the box. The company does recommend fully charging its products before taking them out to ride for the first time.
Will Onewheel chargers work in my country?
Yes. Onewheel Chargers are multi-voltage and will work in any country. Adapters may be required.
What shoes are best for riding Onewheel?
Skate shoes or shoes with a flat sole are the preferred shoe for Onewheel riders. Onewheel advises against sandals or shoes with memory foam soles.
What's the minimum age to ride Onewheel?
Onewheel is recommended for riders over the age of 14.
What's the maximum age to ride Onewheel?
There is no maximum age for Onewheel riders.
What is the weight limit for Onewheel?
The suggested rider weight limit is 275 pounds for the Onewheel GT and 250 pounds for the Onewheel Pint.
Can Onewheel go up hills?
Yes, Onewheel is designed to power up hills.
What is Regenerative Braking?
Onewheels have Regenerative Braking, which gives the Onewheel battery extra juice when a rider attempts to slow down, especially going downhill.
Can Onewheel go off-road?
Yes, Onewheel is designed to tackle different terrains.
Is The Onewheel Safe?
There are inherent risks to riding the Onewheel similar to any board sport. There are tens of thousands of riders who safely ride their Onewheel daily. To maximize the safety of the Onewheel, it is essential to practice, wear a helmet, and read the safety materials provided by the Onewheel team.
How can a person dismount from a Onewheel?
The easiest way to dismount from a Onewheel is to slow to a stop and lift the heel of your foot from the front footpad. Onewheel does recommend practicing jumping off with two feet should a rider ever feel off-balance. The motor will remain on unless the heel of the front foot is lifted from the footpad.
What is Pushback?
Pushback is a safety feature that lets the rider know they have reached the board's limits and that they need to lean back and slow down. During Pushback, the nose of the board will lift gradually, signaling the rider to shift their weight back to slow down. It is critical to rider safety that Pushback is always respected. It defines the actual speed limit that the board can safely go based on a number of parameters, including tire pressure, rider weight, terrain, speed, charge levels, etc. If riders choose to ignore the Pushback warning and continue to lean forward, they can get seriously injured.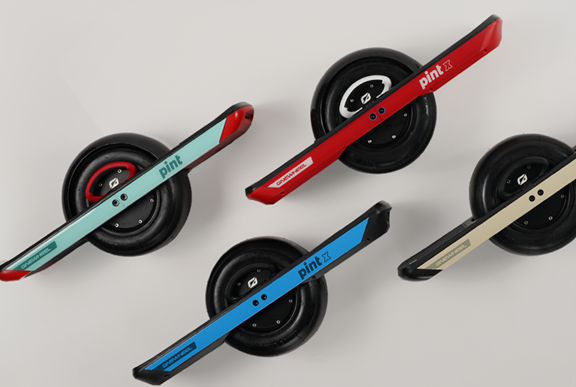 Are Onewheel Products Recommended?
Onewheel products are safe and easy to learn, especially for those with prior board sport experience. The company reports that 80 percent of users feel comfortable riding within the first hour. The company recommends starting slow and learning to start and stop easily before heading out to ride in public. Anyone looking to enjoy a fun way to navigate multiple terrains outside should consider the many benefits of owning a Onewheel.